While Hog Roast Pirbright is always happy to cater your event or party, sometimes we actually end up catering twice in one day, which is just what happened when we catered a wedding locally recently. Our Surrey village is a lovely place to hold your wedding and the reception, and on this day, it was held at The Glen on Mill Lane. Our customers requested some scrumptious food to be served during the day and then for us to cater the evening reception with some more delicious fare, too, so we discussed the possible menu options and they decided on several foods that we knew would impress their guests and satisfy everyone's hunger.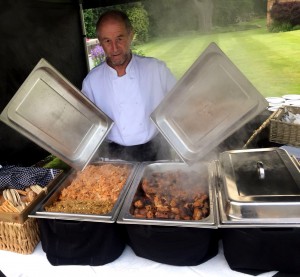 For the daytime menu for 100 guests, our customers chose a buffet served by Hog Roast Pirbright, with a trio of meats, namely hog roast, chicken, and sausages, as well as a trio of garden-fresh salads, our new potatoes, and some summer vegetables. The evening buffet for 150 guests, also freshly prepared and served by our team, would consist of bacon rolls, our own gourmet sausages and bbq pulled pork rolls and wraps.
On the day of the wedding, our team at Hog Roast Pirbright arrived on-site bright and early to start preparing plenty of food for the two meal services. The venue had been decorated beautifully, and we would work hard to ensure the food looked suitably tempting and tasted fantastic too. We work this hard regardless of the type of occasion we are catering, no matter the number of guests or even the size of your budget – we treat all of our customers the same and at the end of the day, we simply want everyone to enjoy our food and be more than happy with our service.
We satisfied many a guest's hunger on this day, and with many of the guests, we did so twice, of course! It's always wonderful to hear a compliment or two but on this day we heard so many that we lost count. Plus the plates all came back clean, which is always the greatest compliment we can get.