Having both lived in their small village all of their lives, when childhood sweethearts Diane and Chris finally decided to tie the knot, they knew that their wedding was certainly going to be a community affair! Being such a close knit community where everyone knows everyone, they were inviting just about the entire village to their wedding at the local church, followed by a reception in the church hall. The couple wanted a traditional wedding with a modern twist and they needed food that would fit with this theme, which is why they decided to hire the Hog Roast Docklands team to do the honours! As well as being massive pork fans, they loved the way we combine a very traditional cooking method with contemporary menus that offer enough variety to suit all tastes and diets, not to mention our commitment to only ever using the finest and freshest locally-sourced ingredients!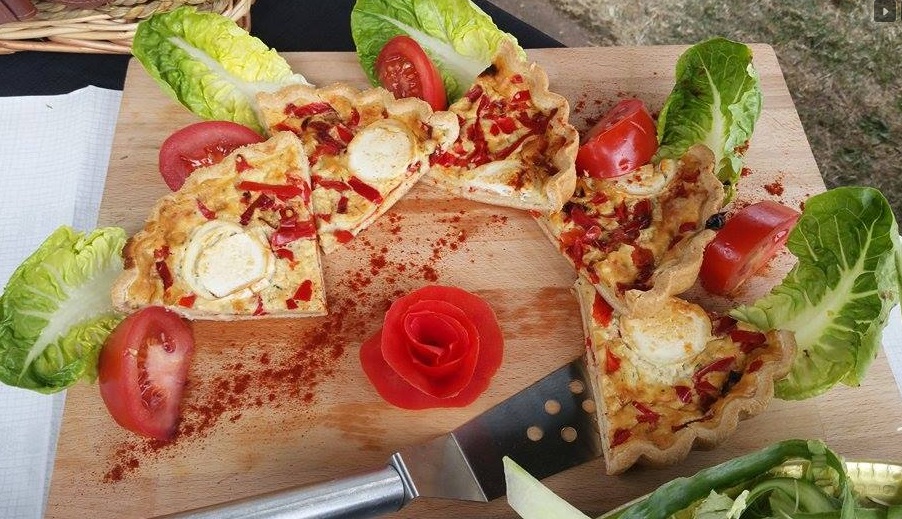 With practically the whole village to feed plus all of their friends and family, they needed a varied menu that would appeal to everyone! They opted for our classic hog roast served with all the trimmings, along with vegetarian quiches and grilled veggie skewers for the meat and dairy-free alternatives, all served with seasonal vegetables and rosemary infused new potatoes. To start and end their delicious wedding meal, Diane and Chris decided on some of our hearty homemade soup and rich chocolate torte and fresh fruit salad. Confident that Hog Roast Docklands would provide them with a wedding menu that everyone would love, they were relieved to be able to leave the catering in our very capable hands whilst they set about dealing with the rest of the arrangements.
When the big day arrived, we were ready right on cue to greet everyone after the ceremony and there was a lovely atmosphere in the room as everyone tucked in to our fabulous feast! It was certainly a very community spirited celebration for the happy couple and here at Hog Roast Docklands, we're glad we helped to bring everyone together even more with our varied and versatile wedding menu!