As soon as you enquire to Hog Roast Twickenham about catering at your event you will have the full attention of our booking and catering teams. Our friendly and professional staff will assist you every step of the way in order to help you to get the most of out of your event. Where possible we can even recommend other local businesses and contacts to provide services such as music and decorations meaning you have even less to worry about in the planning of your event!
Hog Roast Twickenham recently catered for the Royal Military School of Music in Twickenham for an event they were hosting. Catering manager Greg was pleased to accept the job and straight away got to planning the menu for one hundred and forty guests.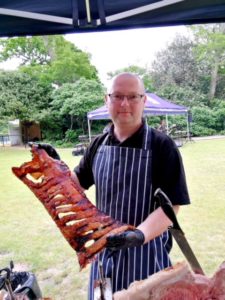 For such a large event we made sure that all of the guests would be catered for by providing vegetarian and gluten free options where appropriate. The vegetarians would be able to enjoy our Hog Roast Twickenham chef's speciality grilled vegetable and haloumi skewers, served with pitta breads and a tzatziki dip. Whilst the meat eaters would be tucking into our signature slow roasted hog served up in freshly baked rolls with lots of crackling, apple sauce and stuffing.
For the accompaniments no effort or expense was spared! We had everything from crunchy homemade coleslaw and butcher's selection sausages to freshly made salads including our delicious tomato and mozzarella salad and a pasta salad for good measure.
When serve time arrived at three 'o'clock our team were eager to give everyone a taste of our Hog Roast Twickenham. There is just something brilliant about seeing the enjoyment people get from your hard work and thank fully everyone seemed to be enjoying themselves! With everyone in attendance well fed and happy we discretely tidied away, leaving behind nothing but a couple of business cards…