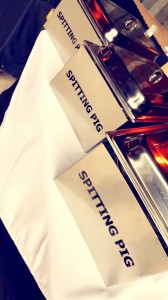 Welcome to the best hog roast caterers in Bethnal. We pride ourselves on providing excellent service and the freshest food whilst giving fantastic value for money. Choosing a hog roast Bethnal caterer for your event can be hard and a very important choice who to rely on to make or break your day can often seem an impossible decision. But here at Spitting Pig, we really think that you can rely on us to set your big day off perfectly. As a hog roast caterer in Bethnal Green, we offer something genuinely unique for the diverse people of this area. We are getting more popular in the area, and I hope to show you through my experience why that is, and why we would suit your event down to the ground, no matter what it is you have in mind!
Firstly, don't focus too much on the idea of us solely roasting hogs and other meats (unless you want to, that is!); although it is our area of expertise, and what we base our menus around, we still put in a lot of effort to ensure that no one is excluded from having a delicious hog roast Bethnal meal when all is said and done. That means vegetarians, vegans and those who just aren't that hot on meat are all still in for a treat.
The Best Hog Roasts In Bethnal
The way we do this is by ensuring we have, firstly, a large set of hog roast Bethnal menus, from a simple hog roast served in rolls with all the trimmings, to traditional and ornate three to four course meals, with canapés, starters, and desserts which all have very little do with the business of roasting meat. Our experienced chefs guarantee that our entire menu is as well prepared as our spit roasts, and that nothing is simply an afterthought. Secondly, our flexibility; we are both a fully inclusive hog roast Bethnal caterer, who will provide chefs,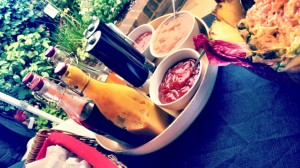 waiting staff and machinery and an easy-to-use renter of our innovative custom-designed spit roasting machines – this means that if you want someone to take care of everything, or if you just want our excellent spit roasts and for us to clear off, we're the company for you!
To give you an instance of our flexibility at work, last week we were hired by a private party here in Bethnal; it wasn't a large party, but there were plenty of hungry mouths to feed. The hosts lived in a terrace house and we had to wheel our machines down the back alleys just to get it into their garden! We didn't see that one coming, but we adapt as we go along. My staff and I have seen it all! On this occasion, they wanted to provide their own pig, as they happened to have a good friend who was a pig farmer. This doesn't often happen, and although we always source our animals from as local and responsible farms as possible, we're delighted to be able to accommodate the wishes of our clients – and this is just one example of it.
So please don't miss out because we are too busy; call us now and we can get to discussing your perfect hog roast Bethnal event!