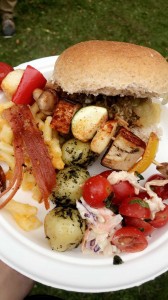 Hog Roast Buckhurst Hill's premium pork and inventive menus make us the ideal catering option for any event in and around Buckhurst Hill. We have extensive experience of providing superior mobile catering solutions for all manner for large and small events in the area, both in door venues and outdoor settings, including wedding receptions, office parties, family celebrations and public events.
We are a great option for such a wide range of events thanks to our adaptability and varied menus. This enables us to provide restaurant-standard food for any amount of people in any setting. We don't take short cuts with our ingredients or preparation methods in order to achieve this either. We only ever use the highest quality ethically-reared pork and locally sourced, free range ingredients in all of our dishes and we always make every part of our menus from scratch on-site, even if we are feeding several hundred people.
Hog Roast Buckhurst Hill The Number 1 Go-To Hog Roast Caterer!
If you are a big fan of pork, Hog Roast Buckhurst Hill's melt in the mouth slow-roasted meat is an absolute must for any occasion. As good as our pork is, however, we how important it is for our food to be as varied as possible in order to meet satisfy diverse tastes and dietary needs.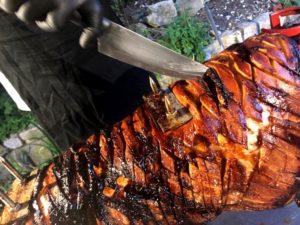 We are continually developing and expanding our menus to ensure our catering options have something for everyone, including a range of different slow roasted meats and barbeque favourites, as well as a combination of traditional and more exotic flavour combinations, vegetarian and vegan dishes and the option of having a sociable buffet or more formal 3 course meal.
When it comes to both the food and the service, we take every detail into account and we are able to make any necessary adaptations to ensure everyone's needs are met and that everything is absolutely perfect for your special day.
If you would like to sample the best slow roasted pork on this side of London, as well having a varied menus that meet everyone's needs, the Hog Roast Buckhurst Hill can offer you great food and service, as well as a bespoke and memorable dining experience.