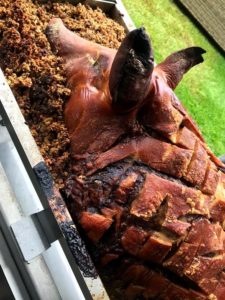 Teeming with history and charm, Chislehurst is a lovely spot for celebrating a special occasion with your loved ones, and if you are hoping to find a catering company who can provide food that is en par with the setting, you have come to the right place.
Hog Roast Chislehurst are the local leading experts in all aspects of hog roast catering, from the selection of our superior ethically reared meat, to the preparation and execution of our menus. Our highly experienced catering team are all experts in our field, and we are all dedicated to making every event we cater for a unique experience in both the food we provide and the level of service we deliver.
Putting A Modern Twist On Traditional Catering in Chislehurst
Our adaptable approach and vast range of menus make us the ideal catering option for any kind of event taking place in Chislehurst. We offer everything from our signature hog roast sandwiches served with crunchy cracking and homemade apple sauce for public events to enticing buffets for family parties and corporate entertaining, as well as sophisticated 3 course meals with the option of a canape welcome reception for more formal events and extra special occasions such as wedding receptions.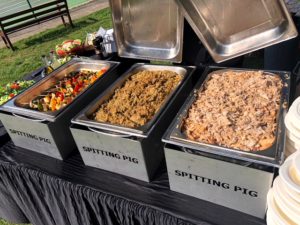 Here at Hog Roast Chislehurst, we understand that modern diners have increasingly diverse tastes and dietary needs and this diversity is reflected in the varied menus that we offer. In addition to our first-rate pork, we offer a choice of alternative slow-roasted meats, as well as whole roasted salmon, themed menus, classic barbeque dishes and vegetarian and vegan alternatives.
Everything we put on your plate will be freshly made at your venue on the day using the best locally-sourced ingredients. We have the flexibility to alter any part of your chosen menu to cater for specific needs, such as by providing gluten-free alternatives, and we always ensure we take even the smallest detail into account in everything we do.
We are just as flexible when it comes to our service style, which depends entirely on your requirements and whether you would prefer a self-service buffet or a more formal sit down meal with full table service provided by our own events team. If you want the best hog roasts in Chislehurst and exciting modern menus that will meet the needs of all your guests, get in touch with us here at Hog Roast Chislehurst today to discuss your catering requirements.