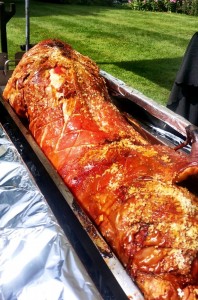 Edmonton is somewhere we're all proud of; it has its oddities and flaws but we come to love them and come to enjoy the unique community spirit of the place. Here at hog roast Edmonton, we like to think we add something to that spirit, and of course, the way to most hearts is through food! Being a hog roast caterer here in north London is a great way to make a living, and we thrive on the excellent people and the diverse events that people invite us into hog roast Edmonton catering for.
Using my experience as a hog roast Edmonton caterer here, I'd like to show you a few ways in which we think we can really benefit the people here in Edmonton who are looking to put on a big (or small!) do. Luckily we have come up with such a lot of menus and ideas for all the events people like to hold that we never fall short of your expectations. We pride ourselves on the mainstay of our food: beautifully spit-roasted hog roast Edmonton hogs served up with all the trimmings in a simple and delicious roll. But even here we like to diversify and we definitely don't stop at pork; we offer all the meat you can handle – beef joints, BBQ ribs, chicken kebabs, fresh spring lamb, whole chickens spit roasted and chef speciality sausages and burgers. That means we're as good for a classic British barbecue as we are for a hog roast. And the variety doesn't stop there, far from it.
The Best Hog Roasts In Edmonton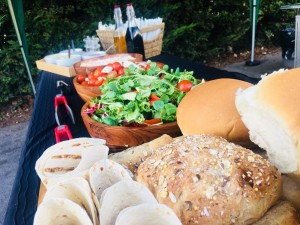 We realise that a hog roast, though a very flexibly way of dining, can't do it all. That's why we've expanded our business to cover every conceivable dining experience; if you simply want to rent one of our custom-designed spit roast machines and have us teach you how to use it, so you can put on your own hog roast Edmonton, we offer an affordable and easy rental service.
Conversely, we are well-versed in catering for much larger events, and our team of experienced chefs will be able to, if necessary, serve up a full on three-course meal with a large range of canapés, starters, mains (built around a spit-roasted meat) and even provide your event with our own efficient and well-mannered waiting staff. People have really come to value our ability to deliver on our promises, and let them rest easy knowing that the catering for their event is taken care of.
For instance, a wedding we catered for earlier this month asked us to come into the location they'd hired for their reception, and we worked with the
on-site staff to take care not only of their sit down meal, which was quite traditional, but also set up a small hog roast Edmonton for the evening festivities – this balance of food worked out perfectly for them and the happy couple were delighted with how their friends and loved ones were catered for. Food can really make a good day great.
Be sure to contact us soon, as we're often busy and hate to let people down because of a packed schedule!