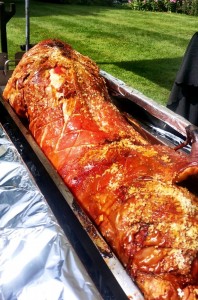 Although once an ancient Essex parish, Hornchurch is a suburban town in the London Borough of Havering. We've actually officially been a part of Greater London since 1965. We have such an interesting history and that includes being the most southerly place in England that glacial boulder clay has been discovered – from The Ice Age, about 450,000 years ago! If that's not enough, Hornchurch has a fascinating modern history too, with Hornchurch Airfield being an important RAF station, in both the First World War and the Second World War.
These days, Hornchurch has plenty to offer its residents and visitors, such as the lovely Hornchurch Country Park, the Queens Theatre and the Fairkytes Arts Centre, and we're not too far away from the centre of London either.
Earlier this week, we catered a wedding anniversary party in the back garden of a residential home in Emerson Park, cooking a hog from scratch for a few hours and then feeding our scrumptious pigs in buns to the guests. They all tucked in and plenty came back for seconds, so we ended up stripping the hog clean.
The Best Hog Roasts In Hornchurch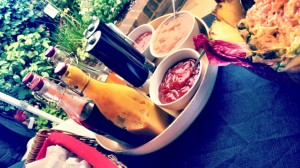 If you're thinking of planning a party or event in Hornchurch, whatever special occasion you're celebrating, we can come along and roast a hog, chicken, turkey, lamb or sirloin of beef, which will impress your guests no end, but we can also do so much more than that too.
Fancy a birthday barbecue with our chef's own sausages and homemade 100% beef burgers or a slap-up meal for your wedding reception with champagne and canapés to start? We have the capabilities to provide pretty much any food that you can think of and we can help you to create your own bespoke menu. Plus if some of your guests have dietary requirements, we have plenty of options for them to choose from, whether vegetarian, vegan or gluten-free. Our hog roast machines are much like conventional ovens so we could even cook you an entire meal in one or even a pizza if you wanted!
So whether you're marrying at the lovely St Andrew's Church in Hornchurch and you want a centrepiece hog roast to stun your guests with its presentation, smells and taste at the reception meal, or you're celebrating your birthday at home, at The Cranleigh or at the Elm Park Assembly Hall, give us a call and we'll help to make your special day a big success.