When you're looking for an affordable, uncomplicated and delicious way to cater your London event – hog roasting is an excellent choice. Whether you wish to hire a full hog roast catering team or just the machine to spit roast a whole pig yourself, we can assist.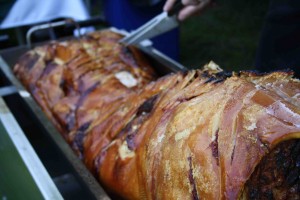 There's something truly unique and mouthwatering about hog roast event catering. It offers far more drama than a traditional three course-dinner or party buffet. Watch as your guests marvel at an entire hog slowly spinning on a hog roasting machine as it cooks, the skin crisping, the juice dripping, the venue filling with the incredible smell of roast pork. A hog roast can cater for large parties too, easily feeding hundreds of mouths if required. It can be served in a floured bun with coleslaw and BBQ sauce or with roast potatoes, stuffing and apple sauce – the choice is yours. Choose a hog roast menu that fits your tastes, budget and the season. Hog roasting is a great choice all year round, for events both indoors and out.
Professional Hog Roast Chefs In London
When you wish to book a hog roast in London, you've found the right site! We can help you with our experienced team of London hog roasters. We have professional chefs who can bring our machinery to your events and do all the hard work for you. They can even prepare your accompaniments, with ingredients from local farmers and retailers. We will handle the whole roast meal from beginning to end if you wish. All you need to do is sit back and enjoy your event and get ready to taste the delights of the finished product.
Hire A Hog Roast Machine In London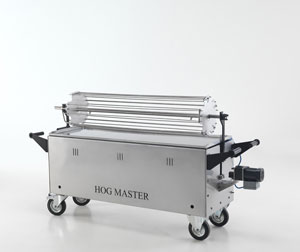 At The Spitting Pig Company, we also offer hire of hog roast machines in London too. Would you prefer to take control of your hog roast and be part of the cooking spectacle yourself? No problem. We can deliver a hog roast machine to your venue along with the required cooking gas. Then you can cook yourself, meaning no outside staffing is required to be at your intimate event. If you would like us to provide a hog we can do this too, we have connections with producers of the most succulent whole hogs, prepared in many ways.
When you've finished your event, we will come and collect our hog roasting machine off you – you don't even need to clean it first, though you may wish if you will have it sitting around for a bit first. Our hog roast machines London are available to rent for as long as you need them, for one day or one month.
Just get in touch with us today to discuss your hog roast in London needs, and we will talk you through our pricing. We look forward to helping you!