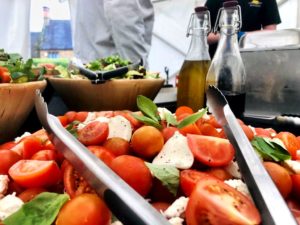 If you are looking for a creative catering solution for any event taking place in this cultural town, the Hog Roast Sutton team have the experience and expertise to provide it. We are the leading supplier of hog roasts in and around Sutton and our signature slow roasted pork sandwiches are the perfect catering option for any local festival. We aren't just skilled in supplying superior large-scale catering either- we are an equally popular option for all manner of private parties and special occasions, in both indoor venues and outdoor settings. We offer an exciting array of different menus that are designed to suit all tastes and meet all dietary needs, so even if you have guests that don't eat pork, they will still love our food.
The Perfect Catering For Any Occasion in Sutton
In addition to our succulent slow roasted pork, we offer an equally delicious selection of other slow roasted meats including sirloin of beef, free range chicken and tender spring lamb. All of our meats are carefully chosen from producers who utilise the most ethical methods and you won't find higher quality meat on offer anywhere in the Sutton area.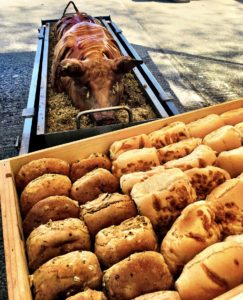 Here at Hog Roast Sutton we take the quality of all of our ingredients very seriously and we only ever use the best locally-sourced produce available in all of our dishes, including all of our seasonal side dishes, starters, desserts and vegetarian and vegan dishes. What's more we always make every dish from scratch on-site whilst your choice of meat is slowly roasting. We will arrive at your venue several hours before your event to ensure everything is perfectly prepared and ready to be served right on time.
Depending on the nature of your event, you can choose one of our sociable self service buffets or a more formal 3 course meal for special occasions, such as your wedding reception. If you would like a traditional sit down meal, we can bring along our own professional events team to provide an excellent level of service.
Whether you are organising a large event, or you want some inventive, freshly made fare for a special occasion, the Hog Roast Sutton team have the ability and enthusiasm to meet all of your catering needs.