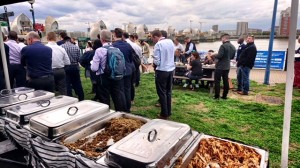 While Hog Roast Bexleyheath can cater for any kind of party or event that you may be thinking of, including wedding receptions, milestone birthdays, anniversaries and christenings, we often provide delicious food for corporate functions, too. We were recently asked by Maria from Balfour Beatty to cater an event for the company at the Thames Barrier green area between the flood control structure itself and The View Café, and this would be the same location as when we catered the event last year, too.
The Thames Barrier is one of London's flood defences and one of the largest movable flood barriers in the world. While The Environment Agency runs and maintains the Thames Barrier, in 2015, it was announced that Balfour Beatty had been appointed as the civil contractor to deliver the 10-year Thames Estuary Asset Management Programme for CH2M Hill, on behalf of The Environment Agency.
For this event, with 120 guests invited, our Hog Roast Bexleyheath team would be cooking our Menu 3 of a slowly-roasted hog, together with additional options of chicken and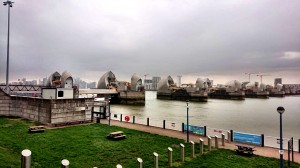 sausages, and alternatives of both vegetarian skewers and vegan skewers. We have spent many years ensuring that all of our customers and their guests can enjoy our food, hence providing so much more than hog roasts, and this means providing additional options, like the chicken and sausages for this event, as well as alternatives for those with dietary needs, such as vegetarian and vegan skewers. Any guests not wanting to eat the hog roast could choose to eat the other meat dishes and while vegetarian guests would enjoy pieces of halloumi and various vegetables, vegan guests would enjoy their kebabs cheese-free.
On the day of the Balfour Beatty corporate event, Hog Roast Bexleyheath set off on a cloudy but thankfully dry day, and arrived at the venue to start roasting the hog and setting up our equipment hours before the food service. Some time later and the Thames Barrier green area was full of wonderful aromas and the carnivore guests began to queue up for slices of meaty heaven, while the vegetarians and vegans began to queue up for our heavenly veggie offerings too!