The Hog Roast Abbey Wood team were in fiesta mode last Saturday when we were in the heart of the action hog roasting to the max at a local carnival! We weren't carnival novices though, this was the 5th year in a row we had been asked to do the catering and it has become a regular gig on our hog roast calendar! We always enjoy the atmosphere and putting people in even more of a carnival mood by making them smile with our super slow-roasted meat!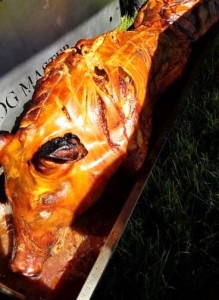 We set up camp in our usual spot on the side lines where the procession of floats, bands, and dancers would be ending their merry procession and made ourselves at home next to the pop up beer tent. As the pork sizzled slowly and the sun finally put in an appearance the spectators started to gather and the sound of music and merriment could be heard in the distance! As the procession advanced slowly towards their final destination, the pork was perfect and ready to be carved by our dexterous chef! The carnival crowd didn't need to wait for the entertainment to arrive to get them into the party spirit; the alluring aroma coming from Hog Roast Abbey Wood's serving table was more than enough to get the festivities started with a bang!
Everyone was already tucking into our tasty and tender pork butties, complimented with the perfect texture combination of crunchy crackling and soft, smooth apple sauce, as the first of the floats started to reach the finish line! The already upbeat atmosphere suddenly became a lot louder, busier and more colourful and we loved being in the thick of things! Regardless of what is going on around us though, we always remain focused on our mission to provide all of our diners with fab food and friendly service, and we never get distracted from the task at hand! We weren't the only ones more focused on the pork than the procession, as many of the spectators were more concerned with coming back for a second helping, than they were watching the show! It was another great day for the Hog Roast Abbey Wood carnival crew and we can't wait to do it all over again next year!