We've had a fantastic year this year at spitting pig surrey.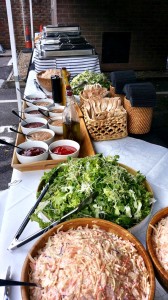 On the brink of winter we served up a treat for the staff at premium credit corporation. It was goodbye to the old and in with the new. Having moved business premises to a larger more suited place, a party was thrown at the old premises in Stoneleigh with spitting pig surrey serving our popular menu 1 hog roast. To accompany the 12 hour slow roast pork, we served our great selection of bread rolls and wraps, sage and onion stuffing made using the hog juice and crispy potato wedges in a Cajun spice. A vegetarian option of chunky vegetable and halloumi cheese skewers was served with it's very own mint yogurt dressing. To finish the meal off we served our homemade coleslaw and a crisp green salad using spring onion and cucumber.  Homemade apple sauce along with hot chilli and BBQ were available with dressings for the salad.
We arrived on site at 3pm to be ready to serve the 250 hungry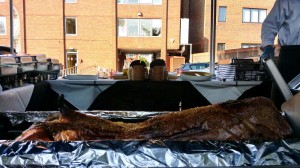 members of staff there lovely hog roast Stoneleigh pork meal. We were quickly shown where to set up and got to work moving all our equipment across to the designated spot. We set up a 6x6m black gazebo to have enough room to be able to set up a large preparation and serving area underneath, as the weather wasn't looking too great.
The hog roast in Stoneleigh filled the canopy with the delightful smell of slowly roasted pork, and as people walked past they immediately came over to look at the hog roast, sat in all it's glory.  We made light work of the large scale of salad we had to prepare and were lightly frying the potato wedges throughout the whole serve to ensure they were crispy and delicious. The 75kg hog we had been roasting was ready to pull for service and the crackling was perfect as usual.  It took us a while, but worth every cautious step we take to ensure that only the very best quality is served. We were soon ready to serve, and it was a good job as 250 people came rushing out of the large building wanting to eat some of the hog roast pork they'd been able to smell for a long while. The staff were in high spirits, not only for the great meal in front of them but the party that seemed like it was going to be a good one. We served very quickly as everyone wanted to get some of the hog on their plate and before we knew it all that could be heard was people eating and telling one another how good it tasted. Many people came back for more and the compliments we received were fantastic, people told us it was the best hog they had ever tasted. The organisers were extremely happy with the food we had served and we quickly and quietly cleared everything away and left the party that was in full swing. Another great hog roast in Stoneleigh catered by spitting pig surrey.