A wedding is one of the most important occasions of anyone's life, so you of course want to make sure you get every aspect of the day absolutely right. That can mean a lot of pressure for some, but thankfully with Hog Roast Cuffley your catering services can be taken care of to ease some stress. Our stylish services are a must for any wedding, delivering exceptional and unique dining that will have everyone impressed and well fed. Never fret about getting good event dining again, Hog Roast Cuffley has you covered for weddings, corporate events, and private parties!
This past week we attended an evening reception for a pair of wonderful newlyweds. Hog Roast Cuffley get cooking throughout the day so that your food is hot and fresh by dinner time. As night falls, and the wedding speeches carry through, our food will be primed to go! For this wedding our bride and groom, Louise and Harry, opted for our southern style slow roast menu on account of Harry originally haling from across the pond. American roasts, made in the UK with Hog Roast Cuffley. This menu offered up a feast of Texan 24-Hour Beef Brisket, Cajun Spiced Whole Roast Chickens, and Fall Off The Bone Louisiana Sticky Pork Ribs as mains.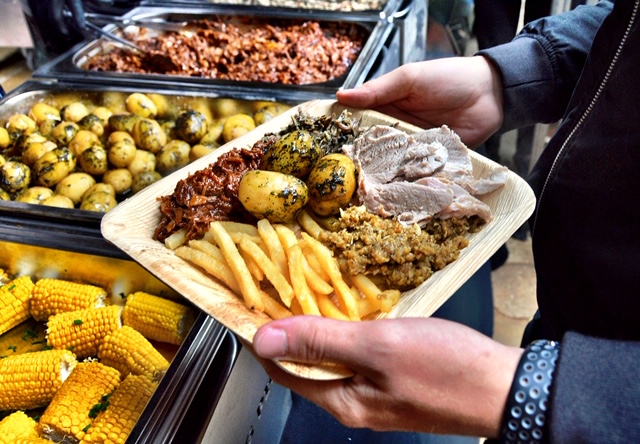 No southern roast is complete without its sauces however, and since Harry likes a touch of spice from back home the couple opted for our Smokey Sweet BBQ Glaze, the Cajun Hot Pepper Sauce, and the Legendary Hickory Bourbon BBQ Sauce. If the Americans get one thing right it is the portion sizes for all their meals, as the food didn't stop there with our southern slow roast also coming with an accompaniment of Memphis Style Crunchy Coleslaw, the all-American classic of Mac and Cheese, Potato Salad, and Grilled Vegetable And Halloumi Skewers. Harry was extremely complimentary of our replication of his homebound American feast – the ultimate compliment for Hog Roast Cuffley!
Together our newlyweds are now headed to Harry's home state for their honeymoon, so they'll be able to directly compare our hog roast version with the real deal (we reckon ours still might be better!). Let us know how it goes, Harry and Louise!