We must admit, though our hog roast dining services are primed for outdoor dining, we do tend to prefer to do it under the warmer weather of the summertime. This colder weather is not typically ideal for our serving team at Hog Roast Surbiton, even with all the efforts we take to make it so. That said, however, we also can't help but want to enjoy a bit of the outdoors when the snow graces us with its presence just as it did at a couple of weddings this past week! Like something out of the movies, we enjoyed a couple of White Weddings this past week making the whole occasion feel just even more magical and apt. A brilliant set of occasions made even more magnificent by the weather and the glistening environment it provided. Our hog roasts ensured everyone stayed plenty warm though!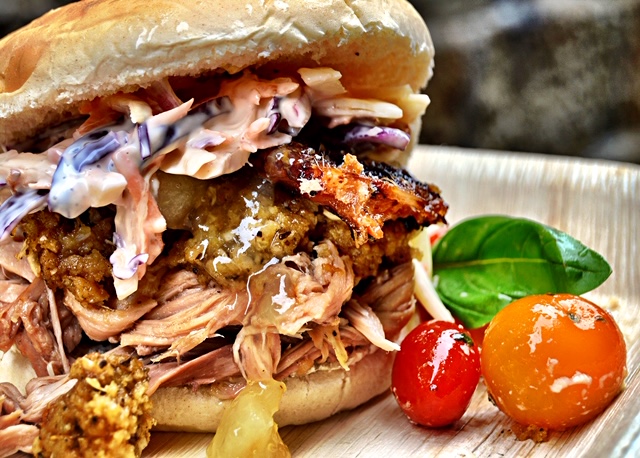 In fact, with some of the weddings we at Hog Roast Surbiton attended this past week it almost felt fated with the weather and our dining services. Just imagine it, a wintery wonderland as a backdrop to your wedding, topped off with a dining service that felt ready made for the weather – a hearty roast to keep you warm made in the traditional manner of spit roast cooking. Truly the stuff of Hallmark Christmas movies indeed! At one event our lucky bride and groom took the brilliant opportunity to make the most of the weather for their wedding photos, the snow providing an exquisite backdrop for the photo albums that will be cherished for the rest of their lives. Those photos however won't tell the whole story of how they then came rushing back in to quickly get their hands on some Hog Roast Surbiton handmade pulled pork rolls to quickly warm up however!
It might be slightly short notice to set yourself up with catering for a wintery wedding of your own this year (although who knows these days with the weather), but with booking available for Hog Roast Surbiton right through to 2024 perhaps next year could be your magical white wedding with us! Or, of course, if you'd rather just keep to the warmer weather we can accompany for the summertime and autumn for this year still!