With lockdown restrictions easing in England, all hospitality venues are now able to open- including nightclubs and bars. Normality can return as dancing and singing are now permitted, as well as moving freely around the venue and ordering at the bar. This makes a big difference from remaining at your table for the entire evening and it was sure to bring new crowds of customers back to the venues. For the grand reopening, Hog Roast Brompton was hired by a London cocktail bar to provide catering and draw in new customers for their first night back.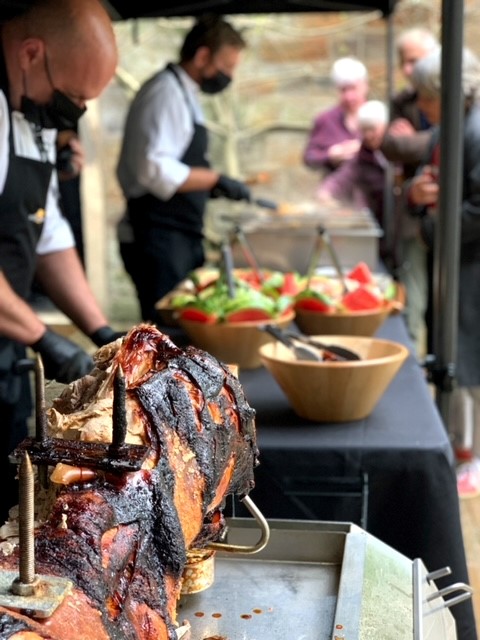 Nightclubs and bars have suffered greatly throughout the pandemic since they have been shut for the longest period of time. When they heard the news that bars were now allowed to reopen, The Cocktail Club knew they needed to do something special for the opening night. Since they do not have a kitchen or provide food, the bar hired Hog Roast Brompton to cater for the evening. Providing excellent food is a great way to draw in more customers and keep them happy all night! We were asked to provide our Slow-Roasted Pig menu since it is incredibly versatile and ideal for large crowds. It is also served buffet style which means it is ideal for informal catering.
On the day of the grand reopening, Hog Roast Brompton arrived at the venue well in advance to prepare our large hog. It took approximately 6 hours to slow-roast to perfection, ensuring it was packed full of natural juices and flavours. Once carved, the meat was served in fresh bread rolls and wraps, accompanied by sage and onion stuffing, home style chips, homemade applesauce, and crispy crackling. This creates a perfect evening meal and was ideal for drunk customers to enjoy in the bar! The atmosphere was great and everyone had plenty of fun.
Hog Roast Brompton can provide catering for private or corporate events, as well as weddings. We have a catering package that is perfect for every event, so get in touch with our team today to book your date and menu!