We received a short notice request on Sunday evening in our hometown a family was having a sledging party, as the snow hadn't stopped all day! And we were asked if we could come along and rustle up some Hog Roast Belvedere food? We said we would love to as we love a challenge. We arrived at the farm and could see the people taking full advantage of the huge hill and their sledges. Jim, the guy who booked us, said everything was so last minute and he said he was shocked that we agreed to come.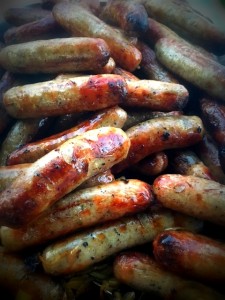 We always like to please and within minutes we had rows of one hundred percent beef sausages on the go! As the sausages cooked we set up the prep table and then began to prepare the sides, we placed bowls of salad and coleslaw and condiments and baskets of finger buns for the sausages. On the smaller machine we placed lots of potatoes and then began to make the filling we made a nice hot spicy filling to warm everyone up and a cheese and onion filling. The guests were all happily enjoying themselves sledging on the hill and we were all saying that it looked so much fun!
When the guests had finished they all came down the hill to greet us and said they could smell the sausages cooking from the top of the hill and they were all so hungry. We removed the sausages from the machine our sausages are from our award-winning butcher who makes the best sausages imaginable and our machines cook them to perfection! The guests were all telling us how amazing the Hog Roast Belvedere tasted and saying how on earth did we do it with such short notice? Our reply was we are always ready for emergencies and do our utmost to please all. Jim was so grateful and said it was the best food he had ever tasted! The guests were asking if we had some cards as they would most defintely want to book us in the future we left a bunch of cards and said our goodbyes and felt such achievement on a job well done.