Corporate hospitality has got itself a bad name over the past couple of years with many people expecting a corporate lunch to be a few soggy sandwiches and old salads. Here at Hog Roast Brent we are determined to change that perception by providing a high standard of corporate catering at an affordable price. So, no matter if you are planning your company's annual general meeting or the Christmas party we can provide the food and will always leave your guests in high spirits!
We were recently booked to cater for one of Hog Roast Brent's local businesses. In fact, the company's office was next door to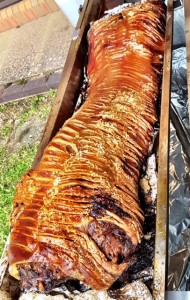 our base and we often had employees telling us the smell of our chefs preparing food always drives them crazy and stops them being able to concentrate on their work. For this reason, the company's CEO decided he had to provide a Hog Roast Brent for all the employees because he said it was the only way they would go back to work. While we felt slightly guilty about this we had to admit it is hard to resist the smell of a hog roast slow cooking in one of our machines for hours on end and not get a taste at the end of it, so we had to take it as a compliment!
With a 12.30pm serve time and two hundred hungry workers to feed we were under pressure to deliver. With one of our trusty hog roast machines we knew we had it under control as we prepared our famous slow roast hog which we made sure to score the skin and add salt to create that mouth-watering crackling that we knew had been driving the workers crazy. We prepared sides of salads; a mozzarella and tomato salad and a crisp green leaf salad which are always customer favourites. We also sliced and buttered plenty of floured rolls which we bake fresh every day and added a couple of gluten free rolls as there were some workers with dietary requirements. Finally, we made sure there were plenty of options for the vegetarians, with our roasted vegetable and halloumi skewers and three bean vegetable burgers. Now everything was all set and we were ready promptly for the masses of workers to descend…