The summer has unexpectedly crept its way early into Britain this last week, and with all this glorious sunshine and hot temperatures it is most certainly the time to partake in a favourite of British summertime: barbecues! Now we know we shouldn't get too excited about some brief warmer weather, it is British weather after all, so expect it to disappear in an instant. But while it is the here and now and the sun keeps shining we'll be making the most of it here at Hog Roast Cuffley, soaking up those rare rays and enjoying the best summer meal in the country with our very own gourmet twist on the classic British barbecue. British summers are back! So ditch the disposable barbecues and cheap meats and make the most of the weather while it lasts with the very best barbecues from Hog Roast Cuffley!
You too could be enjoying the sunny days like our loyal customer Miranda who upon seeing the weekend's weather didn't hesitate in calling up Hog Roast Cuffley to get a quick event together for a small party of her friends. Miranda made the right choice in calling us for her barbecue, because unlike your usual barbecue there was no need for squabbling over the grill, or struggling to get the thing lit, or who is going to bring what to the event etc, because Hog Roast Cuffley took care of all of it, and made the event even better than it ever could have been if Miranda had opted to run it herself.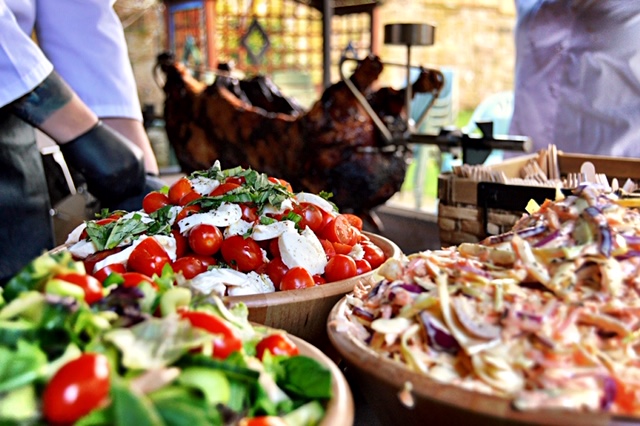 Our gourmet barbecue range brings you the classic tastes of British summer with a quality like you've never enjoyed before. You've got all the typical favourites with a Hog Roast Cuffley stamp of premium quality on it: gourmet sausages handmade from top range meats reared locally; our special handmade beef burgers, deliciously roasted halloumi and veg skewers; every type of roast potato concoction you could imagine; fresh, vibrant seasonal salads and homemade coleslaw; and of course our renowned pulled pork made fresh from a whole roasted pig. Miranda and friends enjoyed a mix of all this while they soaked up the sun and made the best of this unexpected weekend.
If the weather continues then don't delay in getting Hog Roast Cuffley over for your barbecues now!