Hog Roast Heathrow has had the pleasure of catering all kinds of events over many years now, from small, informal get-togethers to posh parties with hundreds of guests. Whatever you have in mind, we'll help you to achieve, with our professional, hard-working team members preparing, cooking and serving delicious food, regardless of the special occasion that you're organising. When it comes to our customers' wants and needs, and that of their guests', we're the number one choice both locally and further afield, as we're dedicated to ensuring that all types of personal tastes and dietary requirements are covered, each and every time.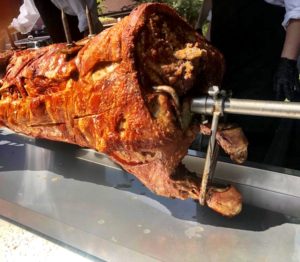 When Hog Roast Heathrow catered Jane's private party at her home recently, we cooked an amazing centrepiece hog roast so we could make our famous pigs in buns for just under twenty guests, but we also made sure that her gluten-intolerant mother could enjoy the same food as everyone else too. While we can whip up a suitable and tasty alternative gluten-free main if needed, our hog roast rolls are already suitable as long as we make sure to use gluten-free bread rolls for that guest. This made Jane's mother very happy, as she thought she would have to miss out, but on this occasion, she certainly wouldn't.
On the day of Jane's party, our chef and catering assistant arrived at her home early in the morning, and set up our equipment outside in the pretty back garden. We often cater smaller functions like this, so if you're planning a special occasion and think your numbers are too small for a hog or spit roast, never fear, as no number is too small for us (or too big, for that matter!)
Once our chef had prepared the meat, it was turning away for a good few hours while we kept an eye on it. By 1pm, it was lovely and brown on the outside and nice and moist on the inside, and needed a short rest before carving. Once we got the carving knives out, Jane's guests all gathered round, licking their lips in anticipation, ready to enjoy some gorgeous pigs in buns Hog Roast Heathrow style, including a very happy gluten-free guest.