Not many people know that here at Hog Roast Ruislip we are not just expert caterers but we also hire out our trusty, hardworking machines to the public. Whether you love hog roasting and want to try your hand at cooking your own or you have never cooked before thanks to our machines anyone and everyone can prepare a delicious hog roast!
This Friday Amy got in touch to enquire about hiring one of our machines for a family party she was hosting. She had in the past tried our delicious slow roasted food and knew it would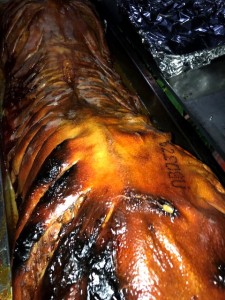 impress her guests. What would impress them more however would be if they saw her cooking it. Amy explained that she wasn't known in the family for being the best of cooks so really wanted to surprise them by preparing the food herself and thought a Hog Roast Ruislip would be the way forward. We readily agreed to help and arranged to deliver a machine to her home the day before the event along with all the ingredients she would need to cook the perfect roast incusing a small hog, vegetables and seasoning. We like to go this extra mile as we want our clients to have the best hog roasting experience possible and although the machine really does do all the hard work for you we know it can be a daunting task when you have never cooked on this scale before.
On delivery we assured Amy we would only be a phone call away should she have any questions or queries about the machine or needed inspiration or a recipe. Then we left her to it and wished her luck for the event…
When we came back to collect the machine a few days later we were met with a delighted Amy. She couldn't stop praising the machine and explained that she had been apprehensive about cooking the hog for so long but once it was done the meat was the best she had tasted and couldn't believe it was all down to herself! Well done Amy, we look forward to hearing from you again soon!