Hog Roast Chipstead has provided delicious feasts at many kinds of functions over the years and one kind of catering that we're often asked about is for corporate events. We have lots of experience of small and large events, from a handful of employees at a local business to a few dozen people at a team-building activity and even several hundred guests at a corporate dinner. Whatever you are organising, we can contribute to its overall success by providing tasty food, we have options for every budget so we can make it economical and we also offer plenty of variety, too. With advance notice, we can cook all kinds of options for guests who prefer something different or for any guests with dietary needs.
We were recently asked by Samantha at Millwood Servicing Limited to cater a function that would celebrate 25 years of being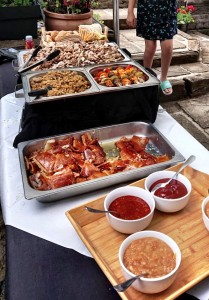 in business. Millwood Servicing Limited is a family business, with a team of Fire Safety and Electrical Experts who specialise in Fire Safety Courses, Fire Risk Assessment and much more. For their special commemorative event, Hog Roast Chipstead was asked to cook a centrepiece hog roast, which we mostly do on-site from scratch (though sometimes it's better for a customer if we part-cook or pre-cook it before an event). Additionally, for the vegetarian guests, we would cook our yummy veggie skewers. With tasty halloumi, mushrooms, peppers, red onion and courgette, they're a popular alternative that can even be made vegan by omitting the halloumi.
On the day of the celebration, Hog Roast Chipstead arrived at the garden venue hours before service to get cracking with the meat. Our chef first prepared it by scoring it all over, covering it in water and then massaging in lots of salt, which makes the crackling, and then set the hog roast machine to a low temperature so it would slowly cook for hours. Clare and Matthew Wood were our points of contact on the day, and they were very welcoming.
The hog roast cooked beautifully, browned on the outside and covered in crispy crackling and with tender, succulent morsels of meat, and once we had dished up our own apple sauce and stuffing and prepared the bread rolls and wraps, we could start serving the hog and veggie kebabs to the hungry guests.