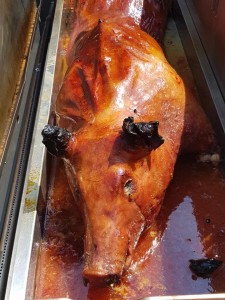 Hog Roast Watford is enjoying the glorious sunshine at the moment and where better for our customers and their guests to enjoy a feast than outdoors at a gorgeous golf and country club? Watford's Aldenham Golf and Country Club is a stunning venue with a lovely Clubhouse and the lounge and conservatory both have excellent views out onto the golf course. At this time of year, with the gorgeous weather we're having, Aldenham Golf and Country Club is the perfect setting for an event or, of course, to play golf, and on this day it was the perfect venue for their own Captain's Day, at the Halfway House.
For this event, Hog Roast Watford was asked to supply a hog roast machine for rental, so that the club could cook a hog themselves. We have hired out our own equipment for many years now and we have a great range of machines for both professional and domestic chefs to use. Learning how to use one is actually much easier than you might think, as you add the freshly-prepared hog, set the temperature, turn it on and simply watch over it to make sure it roasts away over a few hours. Our machine does all the work but you take all the credit!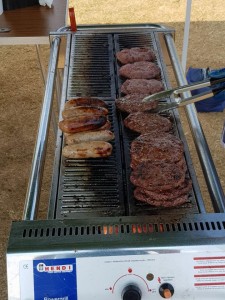 On a recent Friday, we delivered the hog roast machine to Paul at Aldenham Golf and Country Club. Delivery to and collection from your selected venue is already included in the price, and we can even source the meat for you if you prefer, like we did on this day. We use trusted suppliers who provide us with only the best quality meat and you really can taste the difference.
On the Aldenham Golf and Country Club Captain's Day this year, they cooked an awesome-looking hog until it had a crispy outer, all covered in salty crackling, and juicy and tender insides. Additionally, there was a barbecue of sausages and burgers for the guests and plenty of beer on ice to cool down with on this hot day. If you're thinking of hiring a hog roast machine for a DIY, whether for a private party, corporate event or something altogether different, contact Hog Roast Watford today.