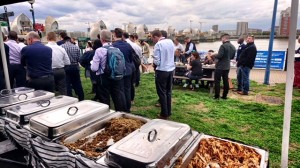 As well as a variety of catering services, Hog Roast Clerkenwell also offer franchising opportunities. This is perfect for anyone who wants to begin their catering journey, or anyone who wants to become their own boss. It gives you the freedom you need to be successful- while also offering ongoing support and advice every step of the way. Here are some of our top tips for starting your own Hog Roast Clerkenwell franchise…
A passion for cooking is essential 
While previous catering experience is not essential, a passion for cooking definitely is! Cooking is the main focus of the job, so it is important that you enjoy it and want to spend time building your skills. We provide extensive training to everyone who starts a Hog Roast Clerkenwell franchise, so you can learn new skills on the job.
Practice makes perfect 
Your skills will only continue to grow as you cater for more and more events. The more you practice your catering, the more refined and skilled you will become- which leads to efficient cooking and delicious food in every dish!
Use our advice and guidance when you need it 
One of the greatest benefits of joining a Hog Roast Clerkenwell franchise is having our expert advice available to you at every step of the way. It is normal to run into problems, especially when you first start out, so it is essential that you use our guidance and advice whenever you need it. Our support is ongoing and always available.
Do your own research 
Finally, it is important to do your own research into franchises. They are a great way to become your own boss, while still getting to benefit from an established and successful brand name- which is something you do not get if you create your own start-up catering company. Each option has many different pros and cons, so it is important that you make the decision that is right for you.
Does a Hog Roast Clerkenwell franchise sound right for you? If so, get in touch today to find out more information. We are always happy to help and can answer any questions you may have about this excellent opportunity!