A primary school teachers leaving day.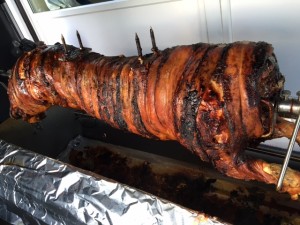 One of our chefs and myself arrived to a packed hall at a primary school crowded with people – we decided to put the marquee up and serve outside instead! Before the scheduled serve time, we already had people queuing up so we started early and they were all really pleased with their hog roast Orpington Spit Roasted Pig in a soft floured bap and all said the Herb Dressed New Potatoes were the best they've tasted! – They helped themselves to Tomato and Mozzarella Salad, Spring Green Leaf Salad and Home Made Gourmet Coleslaw and soon enough, I saw some faces I recognised from earlier asking for some more…
We had a shout out on the speaker from the teacher leaving thanking us so much and told hog roast Orpington it was fantastic, we wished her the best of luck and off we went!