A busy time of year for Spitting Pig hog roasting in London, today we catered for Senator office furniture specialists at their showroom just across from Euston station. A Fantastic event that we cater for most year's and this one topped the chart. We arrived nice and early to be able to set up our equipment as the event is held over 3 floors, making the hogroast in the Euston showroom quite tricky. Our team was in full swing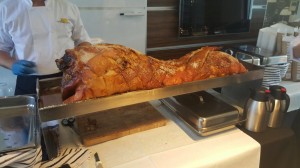 and after an hour we had set up all serving areas and the kitchen on the ground floor. The hog roast was slowly roasting and everyone was in good spirits as we started to prepare the American style menu we were to serve. Everyone at Senator was extremely helpful and they even hired us our own fridge to use so that we could prepare everything well in advance. We had our 6 burner oven going strong with macaronni cheese and the award winning hotdogs we used. There was prime steak burgers, jerk chicken burgers and spicy bean burgers all sizzling on the bbq on the third floor roof terrace, along with the freshly fried chips to accompany. On the second floor we served the two varieties of hotdog.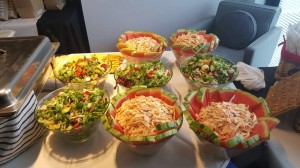 The New Yorker, a Chicago beef hotdog served with pastrami ham, American mustard and freshly fried onions and the Chilli Dog, served with homemade chilli and freshly grated cheddar. Both went down a storm and everyone was stunned at how tasty and great they looked! On the top floor we served the slow cooked hogroast pork, steak burgers, jerk chicken burgers, spicy bean burgers, fries and the homemade macaroni cheese. To bring everything together we served sage and onion stuffing and two freshly prepared salads with dressings and sauces all being available to use.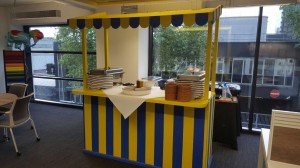 The event was for 350 people and once in full swing, everyone wanted some of the amazing food we had to offer. The compliments kept coming in and almost everyone came back for more. When walking around the event it was clear to see that we had done a great job, nobody could get enough of the food and they ate really well. Containers were left for us to put food in at the end. Another happy client and another great hog roast in London done by Spitting Pig.