Well just another year -  this was the fifth time we have been asked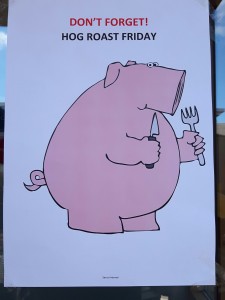 to cater for the hardworking lads at the Tewin Road depot near Hatfield. The set up was much the same and the usual early arrival of 5.30 was needed for the serve time of 11.00am. The lads would be back from the rounds and keen to have the tasty Hog Roast Hatfield before nipping off for a beer on the way home. It was payday and so only to be expected. We set off at 3.40 and the roads were nice and clear although a little traffic was on the M25. Not too bad considering it was 5.00 am!!
Once we had set up we were already pestered for the serve time. No pressure .. However we are used to the early start. As in previous year we had a BBQ as well as a Hog Roast Hatfield. It makes for a good idea, since the lads are always hungry. We had all ready for about 10.30 and so started on time. This year the weather was fine and everyone seemed up for the party. Service was soon over by about midday with a few stragglers at 12.30/1.00. It was difficult to imagine but some of the guys have hold ups on their rounds. Despite a some interesting language they were all very happy with the food, with the supervisors saying it was the best year ever. Most importantly there was even talk of doing it all next year and once they have a date, we're being told. Happy days.