Recently, Charlie's company celebrated its 10th anniversary so he wanted to put a small celebration together, especially to reward those staff members that have been loyal to the company from its set up. Charlie decided to hire the Hog Roast Brent team after hearing some fantastic reviews about them from his friends. He also chose one of the more luxurious Hog Roast menus for the occasion so that they could celebrate the anniversary in style.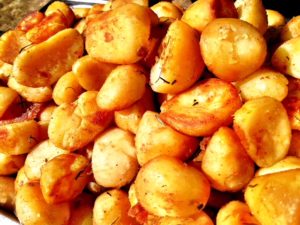 The evening celebrations began with a selection of canapes served by the Hog Roast Brent team's very own waiters which were included in the price of the Hog Roast. The waiters served miniature quiches, spicy Thai chicken kebabs, wild mushroom bouchees, smoked salmon on fresh brown bread and tiger prawns. Once Charlie's staff had enjoyed their canapes, collected their drinks and found their seats, the Hog Roast Brent team served parma ham on a warm potato and walnut salad with an apricot dressing.
   In addition, Charlie selected two main course options from the staff to choose from. The team cooked up a slow roasted sirloin of beef served with horseradish sauce, Yorkshire puddings and homemade red wine gravy, and also slow roasted lamb seasoned with rosemary served with mint and a mustard and dill sauce. Alongside the main meats, three salads were served including a classic Caesar, coleslaw and couscous salad. In addition, jacket potatoes were also served with the main courses.
   Finally, the fantastic night was rounded off with a choice of two puddings including individual cheesecakes with a crunchy biscuit base and profiteroles loaded with whipped cream and doused in rich chocolate sauce. After the plates had been cleared away by the Hog Roast Brent team, the waiters served fresh cream tea, coffee and mints to the tables for the staff to enjoy. The team delivered a fantastic service that was friendly and upbeat to help create a great atmosphere and they ensured that they cooked all of the food to perfection. The Hog Roast team created a brilliant night for Charlie's company and they had a great time celebrating the company's anniversary.