When Hog Roast Ilford cooks for you and your guests, we make sure everyone gets to enjoy our homemade goodness. Whether you want a simple but very tasty menu of our pigs in buns, or a full meal with meat, vegetables, potatoes and gravy, additional meats or alternatives, extra sides or even canapés, a starter and dessert added, we have the choice and variety to satisfy everyone invited to your special occasion.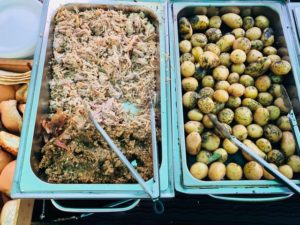 When it comes to alternatives, we can cover various special diets if needed or even offer you meaty options other than a hog or spit roast. You could dine in style with a hog roast centrepiece or a spit-roasted lamb, chicken, turkey or hunk of beef, or feast on our Southern Slow Roast, where you choose three meat dishes and four sides to please varying tastes. We could barbecue meat or fish and vegetables, bake dozens of jacket potatoes or we could even cook you pizzas in our hog roast machines, as they act like conventional ovens. Plus when you book in advance, ask us about catering diets, as we often make vegetarian, vegan and gluten-free options and could cook for other diets if needed too. Whatever your needs, we've got you covered.
Hog Roast Ilford recently catered a 30th birthday party nearby, where we cooked an outdoor hog roast for most of the guests and provided a vegetarian option as well. For Dan's milestone celebration, he asked us to cook a hog alongside new potatoes and seasonal vegetables, to serve with our onion gravy, and to grill halloumi and vegetable skewers to be served with a tzatziki sauce and pitta bread. We cook the meat separately to the potatoes and vegetables, so the vegetarian guests would be able to eat those as well if they fancied, though we would of course make sure they would have plenty to eat already.
On the day of Dan's birthday, our Hog Roast Ilford team made our way to his house and set up our equipment in his back garden. The chilly Autumn weather didn't put anyone off and our tasty hog roast meal warmed everyone up in no time, while the two vegetarians warmed themselves up with their delicious hot meal too.