A hog roast is truly perfect for any and all occasions. You name it, we are guaranteed to have catered for it!
Last weekend we were invited to cater at Sam's 50th birthday celebrations. We had been contacted by Gillian, Sam's wife, who told us she wanted to do something special for his birthday as she felt he really deserved it. We told her Hog Roast Stratford were more than up to the job and would be delighted to come and cater for them.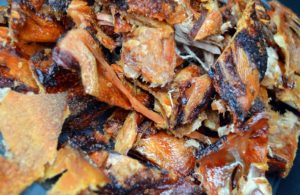 When Saturday came around, we showed up at the house at 10am for a 1pm serve time with approximately sixty guests. Gillian had told us that although Sam had grown to enjoy the finer things in life when it came to food, he always said simple food with good quality ingredients was the most delicious. Due to this, we had decided to prepare our traditional whole roasted hog that stands alone as a flavour filled taste sensation. This would be served the classic Hog Roast Stratford way, in freshly baked bread rolls topped off with our own homemade applesauce and layers of crispy crackling on top.
When the guests and Sam arrived, they were all lost for words. Sam hadn't been expecting anything to this scale for his birthday and it was safe to say he was impressed! When serve time rolled around, we made sure Sam got the first Hog Roast Stratford hog roast roll and awaited his verdict. He couldn't praise us enough! He said our roast was delicious and that it just reaffirmed his belief that nothing tastes better than good quality, wholesome but simple food!
We discreetly packed away and left lots of our Hog Roast Stratford business cards, from the reaction of Gillian and Sam's guests we had a feeling we would be getting a few enquires for more hog roasts in the coming days.