Recently, the Hog Roast Hounslow team were hired by a company called DB Schenker Ltd to help them celebrate a fantastic year for the company's sales. The company had hired several of the Hog Roast teams from around the country to help them celebrate with the staff and reward them for their hard work over the year. The Hog Roast team was perfect for this event as they could serve the all of the company's staff at their workplace throughout the afternoon from outside of the company building.
The Hog Roast Hounslow team had to cater for 50 people, however, the company requested the food to be served as buffet so that all of their staff could enjoy as much of the hog roast as they desired. In addition, the company also wanted the buffet to be served from 2 pm through to 5 pm so that the staff could return to the buffet throughout the afternoon.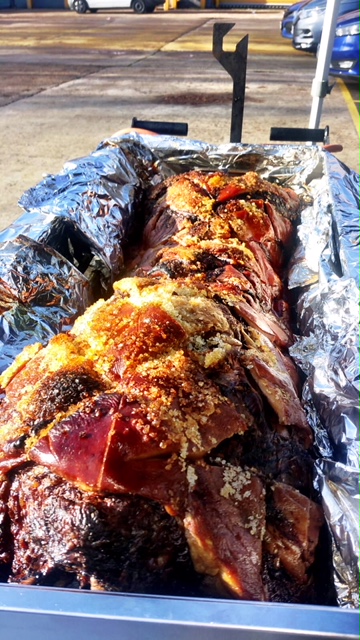 The company ordered 'Menu Three' offered by the Hog Roast team included a roasted pig which was served alongside vegetarian skewers. The buffet also included a huge basket of new potatoes and to compliment the meats, sides sauces and dips were laid out for the company's staff. In addition, the team served up baskets of bread rolls and wraps to be eaten with the meat. As the hosting company was a corporate client,the Hog Roast team ensured that the presentation was perfect and all the food was arranged beautifully to suit the cliental.
The service was led by the Hog Roast Hounslow Head Chef, Paul, were worked tirelessly to ensure that the service ran smoothly and all the food was served to the company's staff right on time. The Hog Roast team had to ensure that all the food was kept warmed throughout the three hours of service. Moreover, they also had to ensure that the meat did not dry out and that it remained fresh. The service was very successful and all of the staff enjoyed the food and it was great way for them to celebrate a long year of hard work