Recently, Joanne and Mark hired the Hog Roast Wembley team to help them celebrate New Year's Eve in style. The pair had not hosted a party on New Year's Eve since the millennium and so they wanted to make it a fantastic party for all of their close friends, family and neighbours. However, cooking for so many people would be a task that the couple did not want to take on and so the asked the Hog Roast team to prepare a buffet for their guests.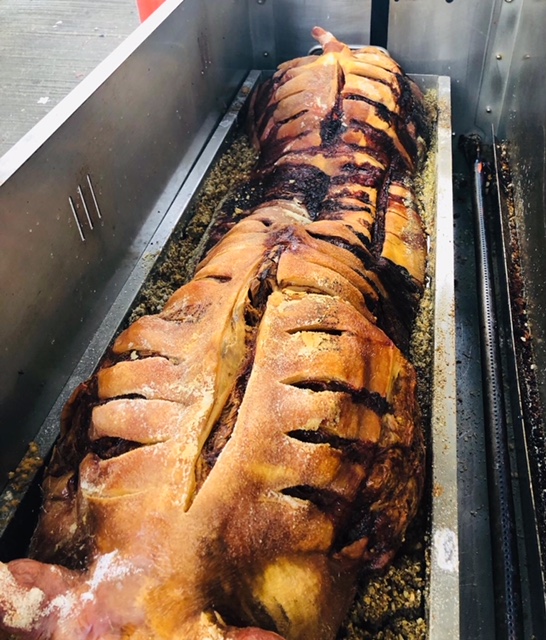 The couple chose Private Party Menu Five which offered a slightly more elegant and formal hog roast which was cooked outside by the Hog Roast Wembley team under their marquee and brought inside to be served as a buffet. The first course consisted of canapes which were selected by Joanne and Mark. From the huge selection offered by the team, they selected the mini vegetarian pizzas, chicken satay, mini burgers, spicy chicken kebabs and the Indian selection. These canapes went down like a treat with the guests and there were plenty to go around.
   For the main meat for the buffet, Joanne selected the Hog Roast Wembley team classic slow roasted pig, which was served with stuffing, crackling and traditional apple sauce. In addition, she also chose the Sirloin of Roast Beef which was served with Yorkshire puddings, horse radish sauce and homemade red wine gravy. The guests really enjoyed the meats while a vegetarian option was provided for those who had dietary preferences and were also well received. These meats were served with seasonal vegetables and jacket wedges as well as new potatoes which had been roasted with sea salt and rosemary.
Finally, the couple's guests were served with their puddings of profiteroles, filled with whipped cream and drizzled in delicious chocolate sauce, and handmade individual chocolate tortes, made with dark chocolate and a crunchy base, both of which were served with fresh cream. Joanne and Mark's party was a fantastic success and once the team had cleared their cooking equipment away, they set off a brilliant firework display in their garden.