Whether you're planning a posh do or an informal get-together, you've come to the right place when it comes to Hog Roast Croydon. We have a whole host of menus on offer, with all kinds of foods for all kinds of occasions, and to suit every budget too. You may be organising your wedding day and you're thinking of canapés and champers to start, followed by an intricate menu consisting of several courses, all planned carefully and months in advance. Or you may be planning a huge corporate function, with hundreds of guests, and you've decided to feature a centrepiece hog roast meal and a handmade dessert to follow. Or maybe you're thinking of an intimate party in your own back garden, with our amazing pigs in buns all by themselves? We can do all of this and so much more.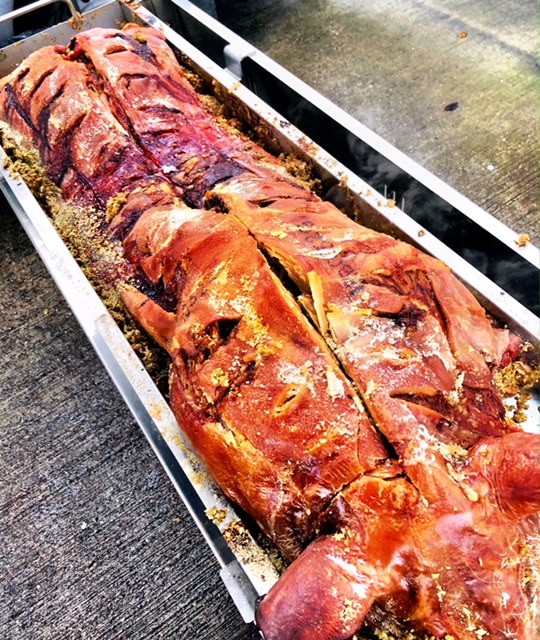 When Rory called Hog Roast Croydon to book his parents' 50th wedding anniversary party, he had in mind something to impress the guests as well as satisfy their hunger – our succulent hog roast rolls but with extra side dishes and a dessert to die for. You can mix and match items between our menus to your heart's content, which often surprises our customers, but we just want you and your guests to be happy and we do so by providing the choice and variety that you need. 
For this party, to accompany the pigs in buns, Rory asked us to cook skin-on jacket potatoes, make a cheese coleslaw and also serve profiteroles afterwards, being his parents' favourite dessert. Two vegetarian guests could enjoy baked potatoes with cheese coleslaw for their main course, and all the guests would be able to eat the pudding.
On the day of Rory's parents' milestone anniversary, Hog Roast Croydon arrived at the hotel venue a few hours before service and set up our equipment in the gardens. It took a good few hours to roast the hog to perfection, and the jackets baked away inside the machine. By 5pm, all the guests had arrived and while we carved the crackling off and sliced into the soft, juicy meat, getting ready to fill fresh bread rolls and top with stuffing and apple sauce, everyone surrounded us, waiting for a bite of heaven.