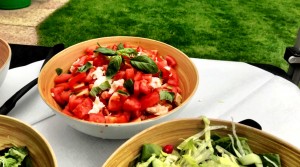 Roger was 65 and he was having a party. He was a keen golfer with a really good handicap. Now he had retired it meant he had more time to spend on the golf course to improve his handicap, that was as long as Julie his wife agreed to it. Julie liked them to spend time together now that Roger had retired so they came to an agreement that he could go golfing every other day. Roger had been a member of the golf club for the last 5 years and had made plenty of new friends. Being a member of the club meant that he could have his party in the function room. Friends old and new along with family members had been invited to Rogers 65 birthday party to help him celebrate.
The club organised for banners to be put up in the function room. A member's son was a DJ so he said he would ask him to do the music and Julie was left to organise the catering. This was when she contacted us at Hog Roast Eltham. She was given our contact details by a neighbour who had hired us to do the catering for their golden wedding party. Julie said she was impressed with what her neighbour had told her about our catering service and would like to know a lot more. We spoke to Julie at great length telling her the different options of menus we do and about the service we provide. We also mentioned our Facebook page where she could go and look at images of parties we have catered for in the past. Julie was happy with the service we provide and chose a buffet menu. We explained we would be cooking the meat outside fresh on the day on our hog roast machine and we would arrive in plenty of time for the meat to be cook ready for the party.
Julie's choice of meat was a full hog to be cooked on the hog roast master. We would serve a selection of fresh salads and warm baby potatoes in a herby butter. A fresh homemade crunchy coleslaw and a pasta dish would also be made fresh for the buffet. Floured buttered rolls and an assortment of sauces and side dishes such as applesauce and sage & onion stuffing would also be made for the buffet. The food looked amazing laid out on the table and Julie was very happy with what she saw.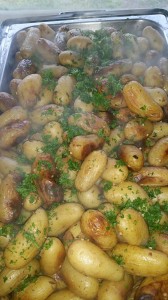 Presentation plays a big part in our eyes as we are a big believer that food should look good as well as taste good. The buffet was a huge success and as we very discretely clear away everything at the end of an event everyone was very happy and content with how the evening went.