The good old 80s was the theme to a fun party that we catered for just yesterday. It ended up being so much fun – I don't remember the 80s actually being that much fun (and yes, I am old enough to remember it well!). We had been booked to provide a delicious hog roast  in New Malden for a birthday party for a customer turning 40. Billy asked for a simple menu so that the guests could enjoy pork rolls, with crackling, stuffing and apple sauce – just one of the many dishes we can do here at The Spitting Pig, but definitely one of our fortes.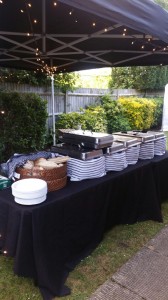 The birthday boy had enjoyed his very first hog roast in the 80s, so it seemed apt that he would have one on his special day to share with his friends and family. Strangely enough, though, for his 40th he had invited 40 guests and Billy asked us to provide a hog of around 40kg. It seemed like his birthday theme should have really been the 40s!
We arrived at the pub venue on Sunday and set up our gazebo nice and early, as service would began at lunchtime. I lost count of the people who came up to us to buy a hog roast sandwich – sadly we had to turn them down as this pig had Billy's name on it! When Billy arrived, he had brought with him a huge, handmade sign that said, "Billy's Birthday Hog Roast" and that actually helped, but until then, I gave out lots of business cards to members of the public who happened to be walking past and smelled the fantastic smells that only a hog roast can produce.
The birthday guests started to arrive, all dressed up in 80s clothes, and Billy came out of the pub in his fancy dress – he looked just like Billy Idol! Soon, our gazebo had a big crowd around, with people dressed as 80s George Michael, Baywatch characters and Madonna. I even saw two Boy Georges! As we carved away, the DJ arrived and his setup blared out A-ha, Michael Jackson and Bros. It was like stepping back in time while enjoying our very timeless hog roast in New Malden.