We know it can often be quite stressful when planning an event but if you let us do the catering, you'll be able to to concentrate on everything else instead. That's just what Julie did yesterday, as she hired us to cater for her 9-year-old son's birthday party with a Hog Roast in Hillingdon. The theme was Harry Potter (it seems it will never go out of fashion as everyone I have mentioned it to agreed this theme would be amazing) and as we cooked a tasty hog roast, Julie would have more time to add themed food and decorations to the celebration.
Julie asked us for our infamous 'pig in a bun', where we roast a hog for you at your venue and then your guests can enjoy tasty pork sandwiches with apple sauce, stuffing, and condiments. After getting all the lovely crackling off, we slice pieces of the pig meat to order and then stuff both the pork slices and the crackling together in fresh bread rolls. It's actually making me hungry just writing about it!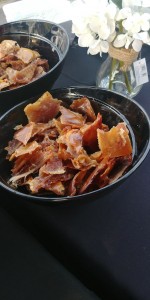 It was a nice and sunny day yesterday as we arrived at Julie's house to set up the gazebo, hog roast machine and serving station in the back garden. Even if you have a small garden, we can usually find a way for you to have a hog roast of your own, in a corner or on the patio, as our machines are very adaptable and truly mobile. We prepared the fat hog by scoring it, adding some water and then smothering it in salt (this gives us the crackling) and then we let it slowly cook for a few hours while keeping an eye on it.
While we prepared the service station, rolls, stuffing and sauces, the guests started to arrive. This included lots of cute little ones all dressed up as Harry, Hermione, Dumbledore and more, all of whom gasped and clapped when they saw the decorations, as well as a Quidditch game and a photo booth with Harry Potter-inspired props. There were wizard hat cupcakes, potions to drink, and, of course, our fantastic hog roast in Hillingdon, which was now just about ready to serve!