Whatever your company's tastes and budget, we can provide you with excellent corporate hospitality catering with our delicious hog roast in Stratford that's cooked fresh in front of you and your guests. Our extremely popular pigs in buns, which is what we call our hog roast rolls, always go down a treat and are loved by carnivores young and old. Imagine the beautiful theatrical sight of a roasting pig, coupled with the delicate smells filling the air, and I'm sure your mouth is already watering at the thought. We fill soft bread rolls with slices of the freshly-roasted, tender pork and crispy pieces of the crackling and top the meat with our luscious homemade apple sauce and stuffing. Add your choice of condiments and there you have it – flavoursome pigs in buns for your business event.
Earlier today, we did the catering for an in-house event of a local business. John, the company owner, had called us to ask about our different menus a few weeks ago and was pleased when we let him know about the cost of our pigs in buns menu for around 40 guests. He was surprised that we covered smaller parties but we are happy to cater any amount of people, whether it's just a handful to a few thousand in fact. Our simple but highly appetising hog roast roll menu is a speciality that we've learned to perfect over many years now and is always commended and then recommended to others, so John left the details in our capable hands and we looked forward to the day of the event.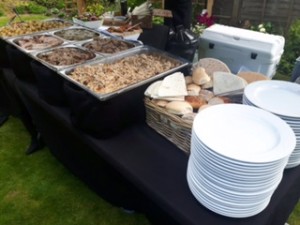 We arrived bright and early to set up the hog roast in Stratford machine and a medium sized hog (which would provide seconds and more and even leftovers, which John wanted taken home by the guests so that nothing was wasted). I prepared the pig myself in front of John and some of his employees, who were all keen to find out more about the cooking process, and then it was time to roast for a few hours. Finally it was time to get the carving knives out and serve a long queue of eager businessfolk.