We have catered many corporate hospitality events over the years now, providing local and national businesses with top-class food and professional service all over the country. Whatever your company's budget and number of guests, this remains the same; we use only the best ingredients from the best suppliers and all our clients are treated to that same level of service.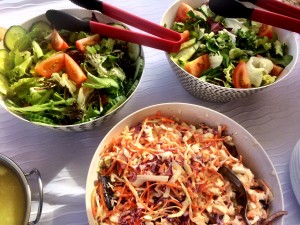 When Damon called us about catering his small company's award ceremony, he was concerned that there were too few guests. He had called another hog roast London company before us, who had turned him down due to there only being around 25 guests in total. We would never do this. Whether you have 3 guests or 300 (or even 3,000), we have the resources to cater for your function. There can never be too few or too many guests in our eyes, and we have managed to cope with even huge numbers. Damon was relieved and booked us for our simple but tasty hog roast rolls and salads for the event, which we catered on Friday.
I arrived at Damon's company on Friday morning, ready to prepare the small pig for roasting in the gardens, and my colleague would be arriving shortly before service. The awards ceremony was taking place in the morning while I roasted the hog, and we were due to serve the food at lunchtime once they had finished. The lucky employees could then head off for an early weekend once they'd enjoyed our delicious food.
I heard lots of laughter coming from inside the building as I cooked outside under our gazebo, and it was soon time for my colleague to arrive, so we could start sorting out the rest of the food. We dished up our famous apple sauce and yummy sage and onion stuffing, and sliced the bread rolls ready to fill them with these and the meat slices and crackling. We had brought along garden-fresh salad leaves, which we freshly prepared, and a big tub of our own coleslaw, too. The employees started to file out of the building into the sun-filled gardens and it was finally time to reward them with a lovely feast of a hog roast London.
Damon thanked us profusely for our service and said he was glad the first company had turned him down, as he would never have got to experience our hog roast London if they hadn't!