We just helped a lovely couple celebrate their Diamond Wedding Anniversary by providing the catering with our mouth-watering hog roast Mitcham. After sixty years of being married (and together for five years before that), Trudy and Ronald had every right to let their hair down and party the night away but they would first delight in our fantastic food. Together with more than 50 family members and friends, they enjoyed a great feast from The Spitting Pig, as well as entertainment from a local band and even a bit of magic from one of their grandsons.
The couple booked us in a few months ago, having happily used us in the past for birthday parties and even for a family wedding last year. Being a long-term favourite dish of both Trudy and Ronald, they already knew without question that they wanted our pigs in buns for their main meal but they also wanted to add some salad and potato dishes to the menu. There were two vegetarians invited, which is never an issue for us, as our fantastic chefs can prepare some exceptional meat-free alternatives for your party or event. In this case, the couple chose stuffed mushrooms for the veggies and decided on jacket wedges, a couscous salad and a Greek salad for the accompaniments to the meat.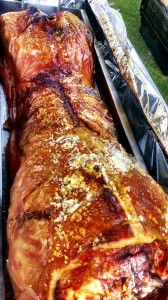 Earlier today, our team arrived at the village hall venue to set up the gazebo over the hog roast machine and serving table outside. We'd brought along a nice, fat, juicy pig to roast and feed the masses and it needed preparing first. It was a fairly windy afternoon which meant the hog roast Mitcham could take longer to cook, so we got this done as soon as possible.
Hours later, the guests arrived to the wondrous smells of a pig roasted to crispness on the outside and so soft and tender on the inside. The band started to play as Trudy and Ronald arrived and that was our cue to start carving off the salty crackling and slicing off pieces of pork to fill the bread rolls and then we were ready for lots of guests to queue for their delicious dinner.