When hiring a hog roast Hemel Hempstead machine for the first time, you may be a little nervous about how to deal with the meat preparation and how to ensure it's cooking properly all the way through. Never fear though, as our professional chefs will walk you through everything you need to know when we drop off the machine at your chosen venue. We wouldn't dream of just letting you fumble through the instructions, even though our machines are really easy to use, and we're a phone call away if you have any questions later, too.
For Kenneth's first ever hog roast machine rental with us, I had the pleasure of taking one of hog roast Hemel Hempstead's top-class machines to his home, together with a medium-sized hog for a private party. He had eaten and loved hog roast Hemel Hempstead in the past, at his own wedding and other events, and decided that this time he would like to try cooking one himself. We can always supply a great quality animal if you need, from one of our trusted suppliers, and Kenneth asked us to bring along a hog this day and show him how to prep it.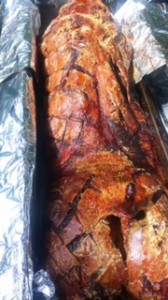 When I arrived at Kenneth's home with the machine and the pig, he was excited to learn how to cook in this traditional yet modern way. I think he was a little disappointed to find out how easy our machines are to use, though, as when I told him he would simply need to turn the machine on, set the temperature and then check the hog continually, he asked if that was it! Well, that is it, as we designed our equipment to be easy for everyone, and the main part of the process is actually really preparing the meat for its roasting first.
After giving Kenneth tips on how to score the meat and adding water all over and rubbing lots of salt into the skin, I left him to his own devices and waited to hear how his party went down. When I collected the machine from him, he was happy to report that the hog had tasted almost as good as ours (almost!) and that he will be hiring one again from us in the near future.