We love helping to make corporate events successful, and one we just catered earlier this week with a hog roast Chigwell has led to lots of Christmas party bookings for us, which is a great bonus. As Dennis and Joy's textiles business is doing better than ever, they wanted to treat their employees and some of their bigger clients to a festive party (deemed acceptable now it is officially December!) that everyone would remember the next day (despite how much alcohol was consumed!) A spit roasted turkey with all the trimmings was on the cards for a lunchtime service, so we set off nice and early in the dark to get to the company headquarters to prepare lots of lovely food and start cooking the meat.
Regardless of the chilly weather, a hot meal can do wonders to warm you up outdoors, and on this day it would be no different. We set up our serving station under the gazebo and got on with preparing the large turkey to be roasted for a few hours. Spit roasting means the bird turns over and over until it is evenly cooked and it becomes an inviting golden brown colour. Delicious moist and tender meat is the end result, and our free-range turkeys always taste gorgeous. After securing the bird and basting the outside, all we had to was turn the machine on, set the temperature and watch it spin.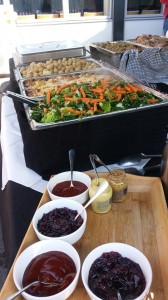 Some time later, it was time to get on with the rest of the food for our hog roast Chigwell. We had fresh broccoli, carrots, and green beans, as well as new potatoes and chef's special cauliflower cheese to prepare, and then all those necessary trimmings, such as stuffing, cranberry sauce, and gravy. As you can see, we go all out with our Christmas menu! You can choose the type of potatoes and seasonal vegetables to be cooked at your event – just ask us for ideas.
Once the veggies and potatoes were cooking in the hog roast Chigwell machine (which we use to spit roast the bird) we could get on with everything else. Before we knew it, it was finally time to take out the carving knives and slice off piece after piece of fabulous turkey to serve to lots of hungry guests.