We catered a spooktacular Halloween-themed birthday party earlier in the week, and it was a frightful affair! Thankfully, the scrumptious hog roast Ilford we provided put smiles on the faces of all of the ghouls, goblins, vampires, and zombies, and even on the grumpiest face of all – the birthday boy Peter, who was dressed as Victor Meldrew from One Foot in the Grave.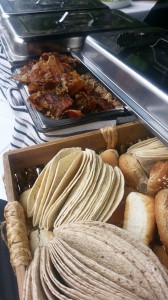 For Peter's 60th birthday, which coincided with the week of the spookiest celebration of the year, he asked us to cook a lovely hog roast Ilford at his family home, for his large family and some close friends. All of the guests had been requested to arrive in fancy dress and most would turn up as horror characters. However, as Peter is always told by his children and partner that he is too grumpy, he thought it would be apt for him to become Victor Meldrew for his own birthday party.
We turned up to prepare and cook the meat while Peter and his children were starting to decorate the house and garden with Halloween banners, carved-out pumpkins, and zombie cardboard cutouts. While the hog roasted away for a few hours, we kept an eye on it but also watched as the home was transformed into a house of horrors. Peter had recorded his own eerie sound effects for the party, which would play all around the inside of the house, and his children had hand-painted bizarre pictures of each of the family members, to hang in the lounge. We couldn't believe how much effort and how many personal touches had been put into this party!
Once the meat had cooked beautifully and was resting, we freshly prepared some salad dishes, sliced the bread rolls and arranged all the sauces and our homemade stuffing. The 20 guests had all arrived by now, each wearing a ghastly or gruesome costume, and it turned out that Peter was the only one not dressed for Halloween. He said, "I don't believe it!" way too many times, but it had all been a part of his plan, for his special Halloween birthday where he decided to dress as an old man instead of an undead one for once. The hog roast Ilford went down a treat!