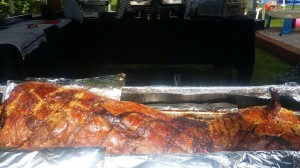 Brian loved his motorcycle and he had owned many over the years of different styles and models. His favourite being the Kawasaki. People knew Brian for his motorbikes and often came to him for advice and as a mechanic he was often asked to do the services and any work that was needed on them. This was why Brian set up a motorcycle club in Camberwell.
He often put posts on Facebook about places he'd been to on his motorbike and pictures of other people who had the same passion. Brian often organised rides out in the summer months and asked for club members to join him on their bikes. They travelled to various parts of the country where other motorcyclists gathered to chat about their pride and joy.
May was the month Brian started the club and he usually celebrated the anniversary of the club in the pub with other members. This year Brian wanted to celebrate the occasion in a different way as it was the tenth anniversary. He asked members for ideas some suggested a party some said a BBQ. Then a member gave Brian an idea he'd not thought of which was to hire us at Hog Roast Camberwell to come along and do a hog roast for him. All the members thought this was great so it was booked for the first weekend in May.
We at Hog Roast Camberwell were very happy to help celebrate the tenth anniversary with the club as our chef is a keen biker too! A small pig was chosen as there was only around 50 members attending. The guys didn't want anything too fancy and asked us to keep things as simple as possible. We always try our best to please our clients and provide what they wish. The club asked for pulled pork sandwiches which is what we did but we also added our very tasty sage & onion stuffing and homemade apple sauce.
As we are a catering company that specialises in hog and spit roast food we have mastered the art of making the perfect crackling. The guys from the club had never tasted crackling like ours and asked for recipes for their wife's to copy but we at Hog Roast Camberwell like to keep our secret ingredients a secret so that we stay at being the best hog and spit roast company around!