The Hog Roast Wembley team enjoyed a foray into the great outdoors last week when we were asked to provide a hearty alfresco spread for a group of 50 college students on an orienteering field trip!  Their challenge was to venture into the wilderness and find their way back to base-camp armed with only a map, a compass and their wits. Their reward was a hot and wholesome hog roast upon their return!
The Hog Roast Wembley team arrived bright and early at the outdoor centre's HQ and we were feeling a lot more enthusiastic about the day ahead than the sleepy college students looked! Because we cook everything fresh at the venue and roast our meat slowly over the course of several hours, we were already setting up our equipment before the reluctant outdoor adventurers embarked on their quest. Many of them looked as if they would rather stay at base camp and spend a relaxing watching us in action, but alas this was not meant to be! Reassured that there would be a filling, flavoursome feast waiting for them when they made it back (if their navigational skills were up to it of course!), the intrepid students were sent on their way.
Whilst our chef's sense of direction may start and end with his sat-nav, he certainly knows his way around a hog roast machine! As the students were roaming around in the wilds, he spent the day expertly preparing the pork, which, because of his skill and experience, was perfectly cooked and ready to be carved upon their return.
They all made it back safely of course and there was never any real danger of them getting lost, but they all looked incredibly grateful to be back at the outdoor centre nevertheless, especially when they saw the delicious reward Hog Roast Wembley had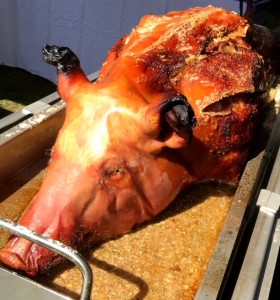 waiting for them! Relieved to have successfully completed their challenge, the ravenous students devoured the tender pork and crispy crackling and many of them managed to navigate their way back to the serving table for a second helping! We're glad they had a good end to a trying day and even if any of them had strayed off course, the distinctive aroma of the hog slowly roasting all day, would have guided them back to base camp in no time!