This year's London Marathon was officially the hottest ever, with the April temperatures soaring as high as 24.1C, yet more than 40,000 brave runners, walkers and wheelchair users still took part. Once the Queen had pressed a button from the grounds of Windsor Castle to start the race, they were off, including many celebrities, and many people in fancy dress, with 26.2 miles to complete around our capital city.
While the race was in full swing, Hog Roast Stratford was busy roasting a hog which would be devoured to celebrate several entrants to the London Marathon. Once our long-time customer Eve had secured her marathon place, she got together with some of her friends who had also secured a place, and they decided that after the 2018 race, they would sit back and enjoy some gorgeous food to commemorate the special day. While many people aren't able to complete the marathon annually, Eve and her friends were sure they would and knew they wanted to celebrate in style with a centrepiece hog roast cooked for several hours while they were running around the city.
Eve asked our team at Hog Roast Stratford to cook the hog in her back garden. Once the group of friends all piled back to her home after the race, along with their partners and friends who were cheering them on, we would serve a late lunch of our scrumptious pigs in buns, which is bits of fresh, hot pork and crackling crammed into soft rolls and wraps and topped off with our homemade apple sauce and sage and onion stuffing. Eating protein-rich food after completing a marathon is a great way to help your body to recover, and what better way than with a tasty hog roast!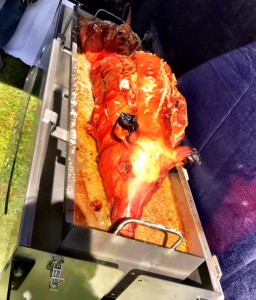 While the meat was resting after sizzling away in the lovely warm weather for hours, Hog Roast Stratford cracked on with preparing some salad dishes, slicing the bread rolls and dishing up all the sauces and stuffing. Eve and her family and friends arrived to the glorious smells of a freshly-roasted pig and they couldn't wait to put their feet up, dig in and tell each other tales of their amazing race.