Here in Hog Roast Holloway, we love to do things the traditional way. We enjoy customer satisfaction, great food and plenty of wonderful events. We cater for any kind of event, whether it be a wedding, a family get together or even just a small garden party. We also hire out our professional hog roasting machines to allow customers to try hosting and catering themselves. At Hog Roast Holloway, we ensure our company is flexible. We do this by creating menus that are suitable for children, vegetarians, celiac, vegans and meat eaters.
Earlier this year, we were contacted by a couple who were celebrating their daughters first birthday, they explained that they had a few vegetarian guests coming so they needed a non-meat option on their menu. We were happy to help. The couple explained their chosen venue of a village hall here in Holloway and we planned to arrive early on the day to set up.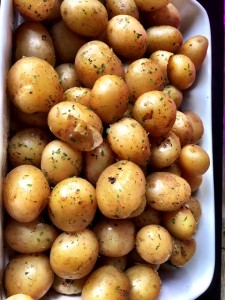 When the day of the party arrived, we drove to the hall with our large hog roasting machine, our very own chef and all of our fresh ingredients to create the perfect meal. As we met the couple at their chosen site and set up our stations, the chef began rubbing the large hog in a salt rub. All of our chefs do follow this procedure to create a gorgeous, crispy crackling to serve. Soon enough, we had a selection of food laid out on a long table. This feast included vegetable skewers, soft floured bread rolls, herb potatoes and an array of salads. The guests piled their plates with our creation and dived into the delicious hog.
Compliments were flying around from both the adults and children, even the party entertainer enjoyed a tender hog sandwich. As the event came to a close, we tidied up our station and ensured all of the food and left over equipment was clean. At Hog Roast Holloway, always offer this service to ensure our clients are stress free at the end of the evening and can enjoy their guests freely.