Nothing brings people together more than speaking a common language and sharing good food in the friendly, relaxed environment. This was why Anna, the social activities co-ordinator of a local international language school contacted Hog Roast Rainham to discuss catering for their end of term party. They have students from all over the world who come to the UK to learn English and rather than focusing purely on the language itself, the activities co-ordinator is always planning social events to make the students feel more at home and immerse them in the local culture. An integral part of any culture, is of course, its cuisine and the school decided a traditional hog roast might be the way to go.
Anna was a little bit hesitant at first though, as like many people who don't know much about what we do, she thought our menu may be quite limited and perhaps not suitable for students from such a wide variety of different countries and backgrounds. As we say to everyone who is of that opinion, think again! Our knowledgeable team wasted no time in educating Anna on our vast range of meat and vegetable options and assured her that no matter how diverse the guests were, we could offer a menu that would cater for everyone, including people with specific dietary requirements.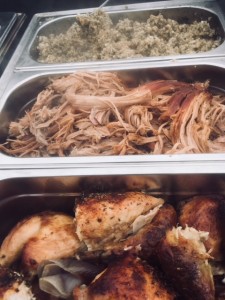 After seeing our extensive menus choices, Anna's initial hesitancy quickly gave way to enthusiasm and with the Hog Roast Rainham team to guide her all the way, she chose to have organic chicken alongside the traditional locally-reared hog roast (our machines and chefs are more than capable of preparing any kind of meat), as well as a vibrant array of side salads and vegetarian alternatives.
It was lovely to see all the students together, enjoying the food and chatting to each other in their ever-improving English and it was definitely a great way to acknowledge their achievement at the end of term. Through expert planning and listening carefully to our client's needs, Hog Roast Rainham managed to provide a buffet that was as diverse as the guests, catering for all tastes whilst at the same time introducing the students to traditional cooking at its best.