It was one of Ireland's biggest celebrations that was to be celebrated this weekend. The whole community in Hampstead had decided to come together to have a memorable day for St Patrick's Day. The event was to be held outdoors on a large playing field so all ages could come along and enjoy the day. Raffle tickets and other fundraising events had taken place in the run up to the big day in order to be able to put food and entertainment on, and there were some fantastic raffle prizes on offer so we even bought a few tickets ourselves.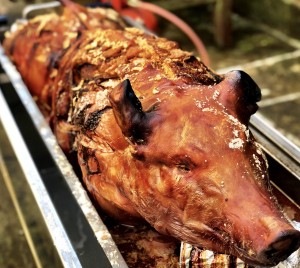 Hog Roast Hampstead were asked if we could do the catering for a large number of people. The organisers were expecting over 800 people to attend. We had catered for large events in the past with great success so we had no doubt that we would be able to handle this. We also had our gazebo ready just in case the weather wasn't good, with St Patrick's day being on the 17th March there is still a chance of bad weather. (Typical British weather). Luckily on the day of the event it was fine but very cold and crisp. People were coming to get warm near the hog roast Hampstead machine and watch while the pigs were slowly roasting. Guinness and Irish whiskey we're brought along for those who were old enough to drink.
Fancy dress seemed to be the desired dress code and most dressing as leprechauns and many people wearing the large Guinness hats. Irish dancers from different dance groups gave a lovely show. Showing the traditional Irish jig and local musicians took turns playing Irish music on traditional Irish instruments or singing folk songs. Young and old joined in with the fun and games and you could feel a real community atmosphere, and we were very proud to be a part of the event. With full stomachs and happy faces a good time was had by all.