With a specialty Hog Roast Ballykelly standalone menu, we'll wow your guests just like we would with one of our amazing hog roasts, but with something that little bit different to tickle their taste buds. While we may well be renowned for our sumptuous hog roast centrepieces, which sizzle away for hours on end in order to produce tender and moist meat, as well as crispy crackling, we're also known for our gorgeous alternatives and that includes several standalone menus, and one of them may be the perfect menu for you to feature at your next special occasion.
Whether you're planning a birthday celebration, your wedding day meal, a huge corporate gig or anything else at all, we have some delicious options available, either in addition to a scrumptious Hog Roast Ballykelly hog roast or instead of one. We won't hold it against you if you decide to not enjoy our signature food at your next party or event, as we offer some truly tasty replacements, like our Southern Slow Roast, Barbecue or Loaded Fries standalones.
Our Southern Slow Roast comprises your choice of three slow-roasted meats from five – minted lamb, barbecued pork, whole-roasted chickens, sticky pork ribs or beef brisket – as well as your choice of four sides, such as fries, potato salad, new potatoes, coleslaw, corn cobettes, mac and cheese, seasonal vegetables, a Greek salad or a green leaf salad. Prefer a barbie, even though we're heading into autumn? We can cook up a storm with burgers, spare ribs, chicken kebabs, sausages, salad and chips instead.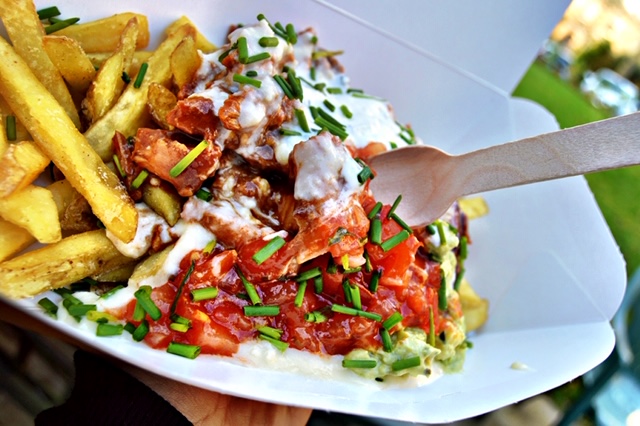 If you're a chip lover, Hog Roast Ballykelly Loaded Fries may be the perfect option, and they're lovingly topped with beef or pork, slaw and cheese, as well as jalapenos if you like it spicy. One of our standalones actually includes a traditional hog roast too – our three-course Alfresco – where you start by feasting on antipasti platters, move on to your hog roast and then end the meal with a choice of our homemade desserts, like sticky toffee pudding and cheesecake.
If your mouth's watering at the thought of one or more of our fabulous standalones, contact us today and book our catering services.