Here at Hog Roast Kenton we are always all about the local community. Our business after all is in supporting local events and often businesses around the area, and sometimes that aid goes a little stretch beyond just cooking up a great meal for our friends.
Recently we were approached by one of our previous partners who was looking to pivot in a new direction for her business. Julie had been a repeat customer of ours many times before and took pride in being one of Hog Roast Kenton's early partnership adopters, and now for one of our most valued friends we're kicking back all the aid and support she has given to us over the years. As it turns out, Julie has become quite fond of the hog roast life and was looking to switch business ventures for something new in the hospitality sector. She came to our team asking if we could help set her up with a hog roasting kit just like we use at our events, and of course we were more than happy to oblige! What is a hog roast if not shared amongst friends, after all! We're not looking to just keep all the secrets of the trade to ourselves; our experience in this business has shown us that it is always better to help your fellow person and so we're always more than happy to take local businesses through how we do things.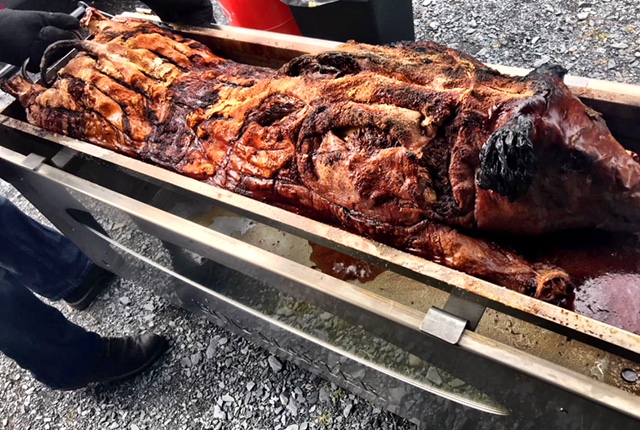 For Julie we pulled out all the stops, helping to set her up with the right machines she is needing for her plans, how best to use them, a full set of training and where and how to source the best meats locally. It is invaluable experience and knowledge that we have here at Hog Roast Kenton, and we are delighted to be spreading it forth to not only a local business, but to someone we happily call a friend. We are here to keep providing support to Julie should she ever need it, and that goes too for any of our partners, but for now we would just like to say go forth and good luck! We know you'll kill it.